Real Belgian waffles
Anagha, 4 weeks ago
0
3 min

read
164
I love a good breakfast. When my family goes on vacation, I always look for hotels which have a breakfast buffet. You start your day right when you feed your soul and tummy with good food at the beginning of the day.I love a good breakfast. When my family goes on vacation, I always look for hotels which have a breakfast buffet. You start your day right when you feed your soul and tummy with good food at the beginning of the day.
I love this quote from Winnie the Pooh;
"When you wake up in the morning, Pooh," said Piglet at last, "what's the first thing you say to yourself?"
"What's for breakfast?" said Pooh. "What do you say, Piglet?"
"I say, I wonder what's going to happen exciting today?" said Piglet.
Pooh nodded thoughtfully. "It's the same thing," he said."
See doesn't it make complete sense?
I love Indian breakfast foods, like Pohe, Parantha, and Appe. And eggs are always classic breakfast candidates, I love them even for dinner. In fact, I do 'breakfast for dinner' more often than I probably should. Eggs Benedict are perfect when you are in a mood to indulge, and 'Huevos rancheros' when you want something spicy. I love good scrambled eggs, made the French way. A video on those will be coming soon!
When I am in a mood to make something special, waffles are always on the breakfast or brunch table. I love making different types of waffles: savory, plain or something so decadent that you can have it for dessert. Today's recipe was introduced to me by my son, Mihir. He is not only a foodie, but my best critic and a great cook as well. He makes some mean pork and fish.
He ate these waffles at Blue Bottle Coffee in San Francisco and loved them. So obviously, as soon as he was back home, we started chatting about it and next thing we knew, we were planning brunch for the weekend.
What we might picture as Belgian waffles are very popular in the United States; typically, a waffle that is much thicker than the standard American waffle but made with the regular pancake batter. In the process of making these waffles, I learned that the true Belgian waffles are in fact more like a brioche dough, enriched and risen with yeast.
Look how gorgeous the dough looks with all that amazing yeast at work.
The yeasty dough and the pearl sugar is what make this recipe special.
So what is Pearl Sugar.
I did not about this until came across this recipe. I even found an article that shed a little more light on this. When I wanted to make this recipe, I searched on Amazon and found this. Sometimes its also called Nib Sugar.
If you don't find pearl sugar, you can take the sugar cubes we get for coffee/tea, and crush them a rolling pin.
When the sugary goodness melts and caramelizes, its just divine. I love serving it with just freshly whipped cream and sometime some fresh fruit compote.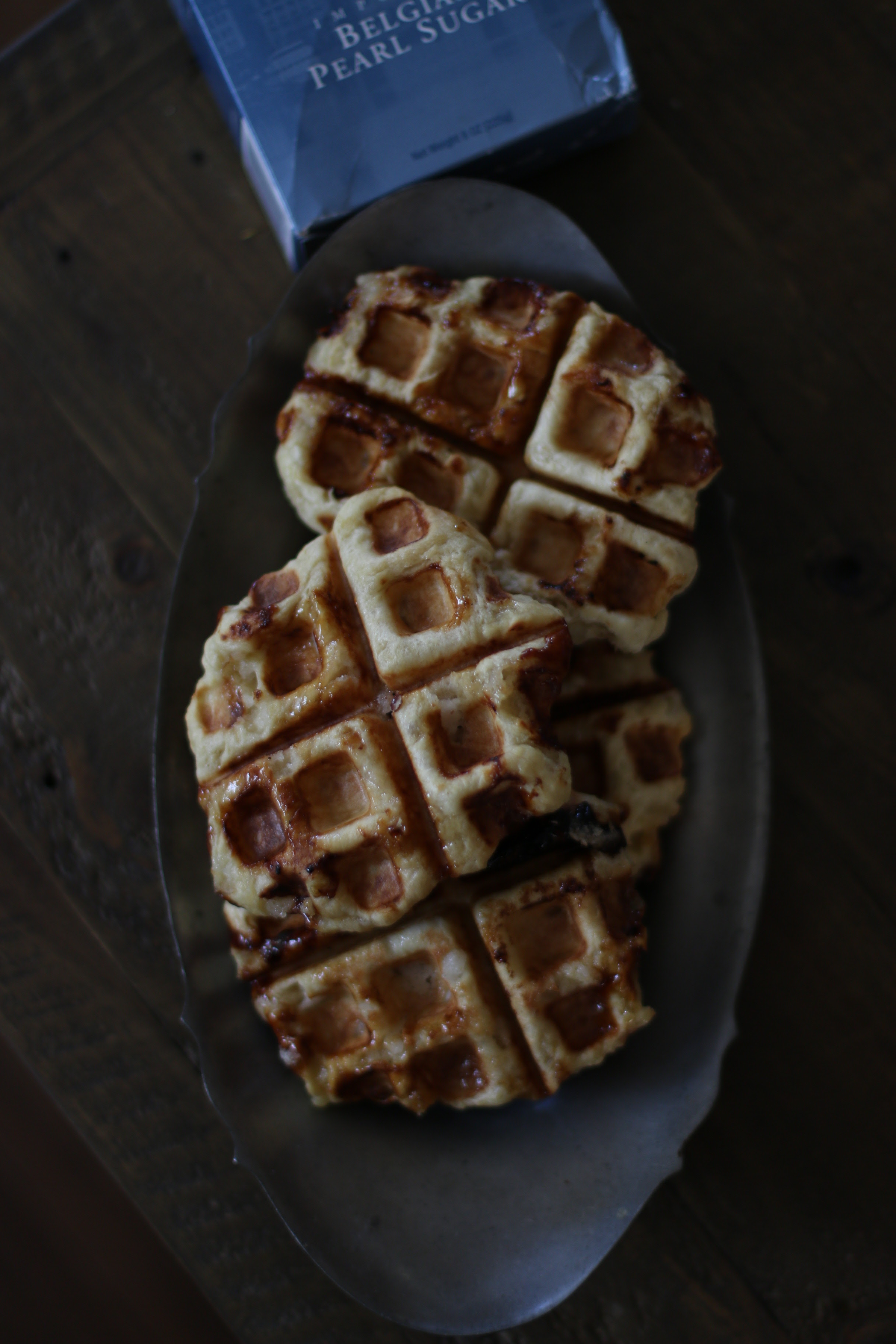 I know its a dish that you need to plan ahead, but trust me its really worth all that planning and effort.
So give it a try and let me know how you liked it
Prep Time: 12 hours
Cook Time: 30 minutes
Total Time: 12 hours, 30 minutes
Category: breakfast, yeast dough
Cuisine: Belgian
Ingredients
1/2 cup (120 ml) whole milk
1/4 cup (60 ml) water
2 tablespoons raw sugar, brown sugar or honey
1 packet (7 grams or 2 1/2 teaspoons) active dry yeast
2 large eggs, ideally at room temperature
2 teaspoons vanilla extract
3 2/3 cups (460 grams) all-purpose flour, divided
1 teaspoon coarse or kosher salt
14 tablespoons (200 grams or 7 ounces) unsalted butter, softened
1 1/3 cups pearl sugar (see Note at end for sources)
Instructions
For the dough

Warm milk and water together to lukewarm, or between 110 and 116 degrees F, and place in the bottom of a large mixer bowl.
Add sugar and yeast and stir to combine.
Set aside for 5 minutes; the yeast will look frothy or foamy.
Whisk in eggs and vanilla, then stir in all but 1 cup flour with the dough hook of a stand mixer.
Add the salt and mix to combine.
Using the dough hook of a stand mixer, add the butter, a spoonful at a time, thoroughly kneading in each addition
Scraping down the bowl as needed before adding the next until all of the butter has been mixed in.
This step takes a lot of patience however this is what creates those layers in the brioche dough
Add remaining flour and knead with dough hook on low speed for 5 minutes, or until glossy.
Proofing of the dough

You can either proof this first in the fridge and then at room temperature or vice versa. Usually I let it rise at room temperature first and then before going to bed, stick it in the fridge.
Next morning when I want to make the waffles, I make sure the dough it out of the fridge for at least an hour.
You can also first put in the fridge for 24 hours and then bring it to room temperature before you make the waffles
Making the waffle

Knead in the pearl sugar, dont worry if its not completely mixed in, in fact I love it when the sugar touches the hot waffle iron and creates that caramel goodness
Divide the dough in 12-16 pieces
Make waffles using the waffle iron. I have made it in my cast iron stove top waffle maker as well as the rotary belgian waffle maker, and I prefer the latter.
They taste the best right of the waffle maker. If you wait and let them cool, they taste like badly baked sweet bread .
Serve the waffle

I serve it with fresh whipped cream and fruit, but can them just by themselves.
https://thesaffrontouch.com/2018/10/17/real-belgian-waffles/
I got this recipe from Smitten Kitchen who had heavily tweaked from the excellent Gaufre de Liège Recette Blog and the copious notes of Not Martha.
Related posts
Welcome
Hola I am Anagha, and welcome to my Kitchen.
I love to eat and hence I love to cook. I love to travel and take pictures.